The Competitive Edge
Affordable business advice and support for small businesses
Are you a small business looking to grow?
The Competitive Edge is my big-business consultancy service adapted specifically to make it affordable for small businesses.
You can buy experience
They say money can't buy experience, but in reality, most successful businesses buy it every day, working with experienced business advisers and business mentors to give them the competitive edge.
Now, as a small business, you too can afford the benefits of having an experienced business advisor on your team, either to provide on-going business support or to call on at critical points in your company's development.
The Competitive Edge On-demand – business advice session
A one-off 90-minute consultation to address specific business issues or challenges
Expert guidance and coaching from a seasoned professional
Identification of critical actions to take your business to the next level
To get the most out of this session, you will need to provide me with background information on your company and the issues you want to discuss before we meet.
The Competitive Edge On-going – continuity of business support and advice
Four to six face-to-face meetings per year + on-going email and telephone support
Practical and pragmatic advice and coaching to help your business grow
Help with planning, marketing and general business issues, including raising business finance.
This is a flexible service and can be adapted to meet your requirements.
Get the edge
As a businessman, I know what the potential issues and challenges are in trying to grow a successful creative business, and understand that sometimes a little more than creativity and drive is required to take things to the next level.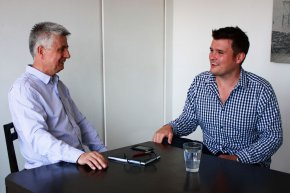 What clients say...
"Working on your own it can be difficult to get the necessary perspective on your business and decide how best to focus your energy in order to get the clients you really want. Barclay was very practical in his advice, and after just one meeting I had a very clear strategy and practical steps for what I need to do next."
Helen Keevy, copywriter and web editor, Core Copywriting